A small and irregular table, perfectly formed for informal meetings, particularly with coffee. Options to add castors for mobility, paper dispenser for creativity and/or a pendant light for drama.
Like its big brother Meeting, Café slots together in seconds and can be taken apart and flattened for easy transport. It's ideal for two to three people, although its shape allows up-to four or five to gather round if need be.
The suggested minimum space for one Cafe table is around 10 square metres (105 sqft) or 17.5 square metres (190 sqft) for two.
How to buy
£340 - 420 from a maker near you
Of which a proportion supports the designer, and keeps the platform ticking!
(find out more about how it works »). PLEASE NOTE: Pricing varies based on your location and local maker capacity.
---
Opendesk can help you specify designs, visualise your new space, obtain quotes and manage your project from start to finish. All products bought through Opendesk include a 12-month guarantee.
Current UK pricing for this product & service (again including support for the designer and platform):
£380
This service is only available in the UK at the moment, if you are outside the UK you can connect to a local maker near you. The price is based on recent UK maker quotes. Excludes VAT, delivery and assembly.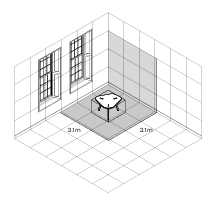 Dimensions: length: 1,100mm, height: 720mm, width: 1,200mm.
Cutting sheets (fits on): 1 sheet
Sheet thickness: 18mm
Mastered in: metric units

License:
Creative Commons - Attribution-NonCommercial
Categories:
Tables
Designed by: