The original Opendesk, an open design project commissioned by Mint Digital as a generous and flexible four person workstation.
The sawtooth edge of the Desk top can be rotated to create individual sections, or to allow two or more colleagues to work co-operatively next to each other, on both sides of the table (either side of the central cable tray). Several desks can also be connected in line to emphasise the sawtooth effect.
The suggested minimum space for one Desk (4 work spaces) is around 18 square meters (195 square feet). For two connected Desks the suggested minimum space is around 32 square metres (345 sqft). For an ideal fit, increase the numbers by 15%.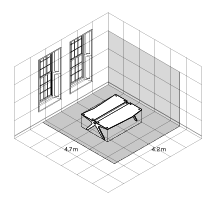 Dimensions: length: 2,400mm, height: 720mm, width: 1,690mm.
Cutting sheets (fits on): 4 sheets
Sheet thickness: 18mm
Mastered in: metric units

License:
Creative Commons - Attribution
Categories:
Desks
Designed by: