Design for Open Making and CNC machines
From sheet thickness to double-sided cutting, we run through some of the most important considerations when designing for Open Making and CNC machines.
Open Making is a new socio-economic movement in manufacturing, powered by an increased accessibility to digital fabrication tools – and the internet. In Open Making, the concept of a factory is flipped on its head – no longer a single large facility operated where land and labour is cheapest, but a global network of independent workshops, operating CNC routers and other digital fabrication tools. By connecting these workshops through the web, it's possible to create a distributed manufacturing system, and goods can be made where they are needed, when they are needed.
This 'distributed factory' requires a designer to consider new concepts and parameters – to ensure their design still produces the same product whether it's made in Malaysia, Moldova or Mexico. As a starting point, we've put together this illustrated list of the most important considerations when designing for CNC machining and distributed manufacturing.
Sheet size
It's important to consider the size of the material from which your furniture will be made. 1220 x 2440mm is the most common sheet size in Europe and we recommend starting with this, but 5' x 5' (1524 x 1524mm) is also common in the USA. Consider the size of the material you will be using and its availability around the world.
Universal makeability
Always bear in mind that your design could be made by a fabricator on the other side of the world. Complex designs that use materials or hardware of limited availability may alienate a large number of fabricators in some parts of the world, and therefore make your design harder to distribute.
Material
There are many sheet materials available including plywood of various types and levels of quality. You will notice almost all Opendesk designs are showcased in birch-faced plywood – a high quality material that's widely available across multiple continents. Its availability allows us to offer our furniture almost anywhere in the world. CNC machines can also process pieces of solid wood, but it would be very difficult to maintain material consistency around the world.
Sheet thickness
There are many thicknesses available in sheet materials, they differ across different material types but tend to be quite consistent in plywood. As an example, Birch faced plywood is commonly available in metric thicknesses of 6mm, 12mm, 18mm, 24mm. Different thicknesses have different qualities including strength, flexural strength and flexibility, and we primarily use 18mm and some 24mm.
Nesting
'Nesting' is the laying out of parts on a sheet for cutting. Material efficiency is an essential consideration for any environmentally mindful designer. It's important to design a piece of furniture with the material from which it will be cut in mind. Failure to do this can result in inefficient designs which are extremely wasteful. We recommend leaving 20mm between parts and around the edge of the board.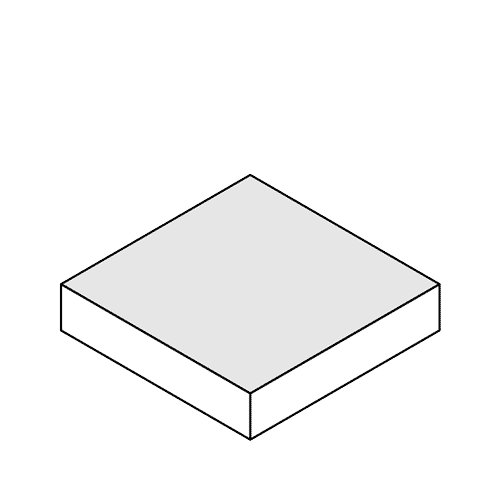 Double-sided cutting
It is possible for CNC machines to cut on both sides of a sheet material, but this requires a fabricator to flip a sheet and accurately re-locate it on the machine bed. Double-sided cutting is a way to add detail and more complex joints to a design, but it also has an impact on cost due to the extra process and difficulty. Designs that require only single-sided cutting are generally more universally manufacturable, and we try to keep our designs to single-sided cutting wherever possible.
Assembly
Consider the experience of assembling a design. How simple is the process, how intuitive and how enjoyable. How can an assembly process be communicated across different languages? Amongst the things that make it more difficult are using multiple small parts and lots of glueing and clamping parts together.
Hardware
Hardware components often differ from country to country, so consider the availability of hardware in different regions of the world. Simple hardware, such as nuts and bolts are available worldwide – we use mainly m6 x 30mm bolts and m6 insert nuts. More complex hardware such as hinge fittings may only be available in specific countries, or in different variations that would mean a change in the cutting files.
---
This post is the third in a series of three design pieces. Read about 'Remastering Traditional Joinery' here and CNC Machines and Common Cut Types here.
Also, if you're a designer and want to see your design on Opendesk, respond to our latest brief: Open Call for Open Plan!
ABOUT THE AUTHOR