From doors on trestles to Lean Desk - the story of a workspace in Sydney.
We are happy to share with you an amazing workspace in Sydney and introduce you to the team behind it. It is really good to see one of the early versions of Lean Desk made locally 10,000 miles from London where it was designed.
Cal Wilson is the CEO of The Working Party, a digital agency in Australia. Their office is based in Sydney's Haymarket district, tucked away amongst the noodle bars, restaurants and the bustling markets of Chinatown.
As a software developer Cal is a keen advocate of open source. When he first stumbled upon Opendesk on Twitter, he loved the collaborative and Open Making approach to furniture. He straight away, recognised the value in applying open source concepts to furniture, so when the time came to furnish their new office, Opendesk was the natural choice.
The Lean Desk by Nick Ierodiaconou & Joni Steiner, in use at The Working Party. The flippable profiled tops allow the team to configure the desks in a variety of ways.
Their small team of 6 is based in an open plan office in a 146 year old building, they started with doors on trestles but as any successful start-up knows, there comes a time when you outgrow cobbled-together office furniture. Now that they work with a wide range of industries and companies from startups to big names such as Kookaï, they all decided it was time to create a space that feels good.
Starting with a blank canvas was a perfect chance to create something totally individual. They realised the overall cost would be a little higher than mass produced furniture but Cal could see the value. The process was fun and the end result was both practical and enjoyable.
Lean Desk a flexible 4 person workstation, was built for startups and established teams alike - and is popular for its spacious work surface.
Kelly talked us through the make-over. The first step was to find a local maker and they found Gwyn Jones of Blueprint 4D just a few miles down the road. It was Gwyn's background in building plywood boats that caught Cal's attention. His team and their diverse skills "were amazing" says Kelly.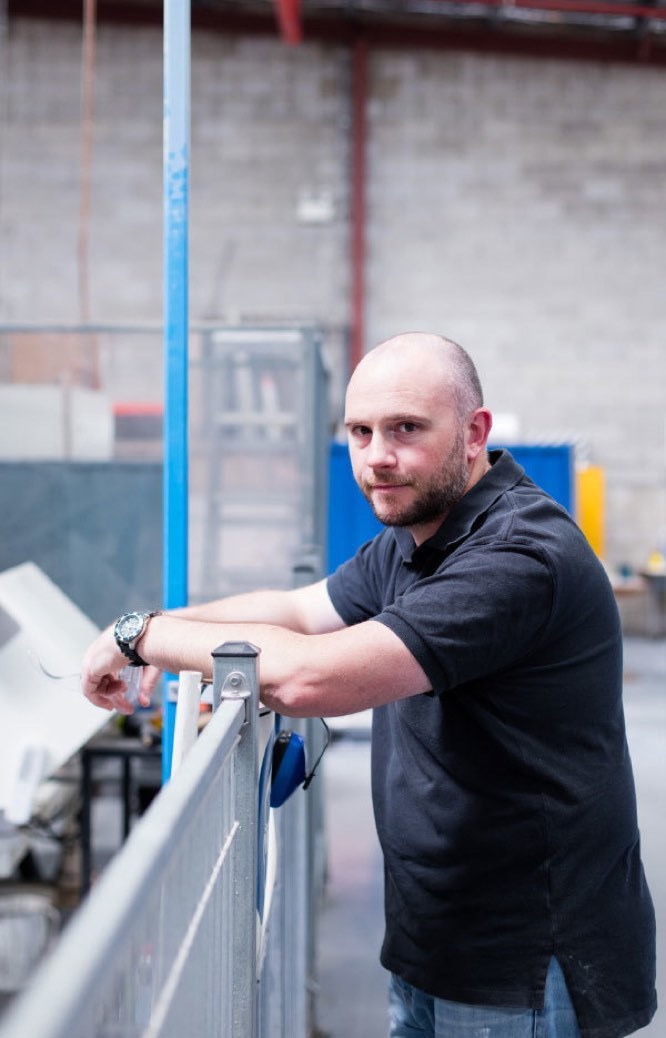 Gwynn Jones of Blueprint 4D, whose skilled team of makers produced the furniture for The Working Party.
After working on many different desk types and surfaces over the years Cal wanted a natural and clean look. By working closely with the maker they were able to test out different configurations to find the perfect fit.
The end result took less than four weeks and was an enviable, environmentally friendly new work space for their six staff and their beloved record collection. Cal being quite tall got a desk that perfectly fitted him and the team have already contacted a local maker for their new office in Melbourne.