New Design: The Canteen Table
Meet the Canteen Table - the newest addition to the Opendesk family, and perfect from group meeting to lunch eating :)
Canteen evolved from it's little brother the Cafe table - also designed by David & Joni Steiner - and seats up to six people. Available in warm birch plywood or a minimal arctic white, it's friendly scale and softened corners make it perfect for hosting mini gatherings, from small team meetings to group working or long lunch socials.
At home, Canteen makes a beautiful dining table with its quiet details simple form. Hidden fixings make it easy to assemble and take apart - and because it can be easily stored flat it's also great to build up for shorter-term use or for those with a little less space to play with.
Five minutes with Joni
Joni is Opendesk's Co-Founder and one half of the design team behind the Canteen Table,
along with his brother David.
---
Why did you design the Canteen Table?
Firstly, because the original cafe table needed a big brother! The Canteen table is really a simple evolution of that design, with a little more room to play.
But also, because workplaces need to be versatile spaces, with room to eat, meet, work and collaborate - sometimes at the same time. David and I are often thinking about this merging of functions when we design products. It's also true that many people are less and less anchored at a permanent desk - rather choosing to work in a mobile, flexible way from cafes, from home or in my case from the the Breakout Table in the Opendesk studio (I like to stand up when I'm writing emails - it helps me stay awake :)
Creating different environments to allow for different work styles - and changing your set up and environment - is proven to increase creativity, and we look to design products that can allow workplaces to embrace this fluidity in their use. With its simple versatile form, the Canteen table is a great fit for that.
Do you see it as exclusively for the workplace?
No, not at all - it works really well in different settings. I think that's because it's so simple - it just fits in easily. It's very much at home as a kitchen or dining table - but also as a temporary workspace that can easily be put together and taken apart when not needed. We've also seen our original Café Table work beautifully in hotels like the Away Hostel in Lyon, and lots of our other designs feature in cafes and commercial spaces around the world.
The Away Hostel, Lyon. Photos from The Telegraph.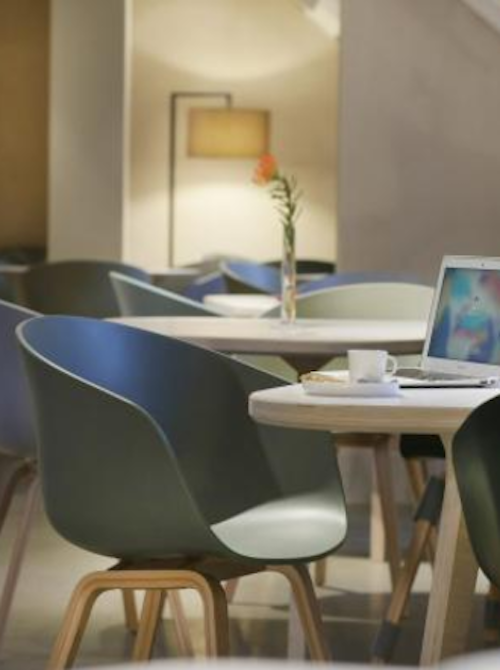 Hotel Palazzo Grillo, Two Gingers Coffee House, Kiosk Projects gallery. All photos from Instagram.
---
If you'd like to request a quote to have the Canteen Table made for your workplace, home or local business, simply add it to your basket and fill out the form. We'll be in touch soon after with your quote so you can have it made on-demand - locally and sustainably.
ABOUT THE AUTHOR