Meet the Makers: Dan in Oxford
From apprentice woodworker to successful bespoke kitchen maker. We meet Dan from Evie Willow in Witney, Oxford.
Following in his father's footsteps, Dan left college at 18 and began working as an apprentice in traditional joinery workshop Dovetail Joinery. After spending many years in wood workshops across Southern England, Dan took a leap of faith and start his own business in 2012. With his brother Steve close by his side, Dan has been running Evie Willow for 5 years now. Becoming an Opendesk maker in August 2017, Dan and his team look forward to making Opendesk furniture alongside their signature bespoke kitchens.
Opendesk: Tell us a bit more about your history? How have you ended up where you are today?
Dan: I went to college at Whitecoat Wood and studied Furniture Design and Craft. My dad was a joiner and wood carver so I was already working as a joiner at the time and had a pretty good idea about the industry. After college, I worked as a cabinet maker for eight or so years before my brother and I decided to start making kitchens together!
Opendesk: It's nice that it's a family affair. Tell us more about your relationship with Steve.
Dan: We're quite different people but we love working as a team. Our skills are very complementary too: Steve is a very good fitter so it's great to have him onboard. He always wanted to follow in our Dad's footsteps and become a joiner, while I wanted to be an architect. But I quit A-Levels and realised I didn't quite have the right mindset, so chose a more practical option, starting with design. When I was 18 many of my friends were already working and I really wanted to start earning money too, so I went into the workshops and loved it!
Opendesk: What was the first workshop you went into?
Dan: Dovetail Joinery; a very traditional old school joinery shop. It was the perfect training ground: mess everywhere, everyone making, no health and safety - I loved it! It was great because you'd literally work from a drawing on the back of a cigarette box and then do everything from start to finish. I was thrown in at the deep end, and what started out as a tricky environment to learn in became a very beneficial one when you got on top of it.
I was also fortunate to be an apprentice to one of the top cabinet makers there. I was given my own work but he was great to learn from because he was so skilled. There are very few guys like him left around.
Opendesk:
So where are now: Evie Willow. How did it all start?
Dan:
It'll be five years ago this November that we started trading as Evie Willow and created the brand.
I made the decision to take a leap of faith when the company I was working for at the time were struggling: they weren't able to give me much fitting work. When work is a bit slow to come in you have to get resourceful. I rented a space in a local barn that had a joinery shop next door, and that was where I made my first Evie Willow kitchen with a fixing apprentice. We used hand tools, the timber from the joinery shop and assembled it all in the barn: that eight-week experience gave me the confidence to set up my own workshop.
Opendesk:
That's fantastic to hear. We love that the first Evie Willow kitchen was built in a barn! What was your first year like?
Dan:
Overall it was pretty slow - we only did around 10 kitchens. On top of that, there were a lot of trade shows and fairs we attended, which actually proved a good way to generate interest. It's all gone up from that first year and far exceeded my expectations.
Opendesk: You're originally a city man. How do you find it working in the country?
Dan: It's great. The village has Cotswolds vibes: lots of thatched houses down, just the one village shop, and when I look out the window now I can see fields (and the sunshine today!🌞 ). It's only three miles home and this morning I walked to work - it's the best way to clear my head before and after work. When customers come here it feels so much more personal than a corporate company which is important to us. It's a great environment to work in.
Opendesk:
Can you tell us more about your team?
Dan:
Yeah sure. I'm the Director, so my main role is overseeing the whole design, manufacturing and installation process. I do all the initial enquiries then brief Katie, my designer.
Katie has an interior design background and is based in the office too. She prepares all the designs in CAD and produces technical drawings. Then there's Nick, also in the office, who is very technically minded and skilled on CAM systems. He checks Katie's drawings before we put them into production. Nick and I regularly go out and do interiour surveys to work out the best way to manufacture and install the kitchens. In the workshop, I've got Sławek, also very skilled on CAD, who operates the CNC machine and does his own programming alongside Nick.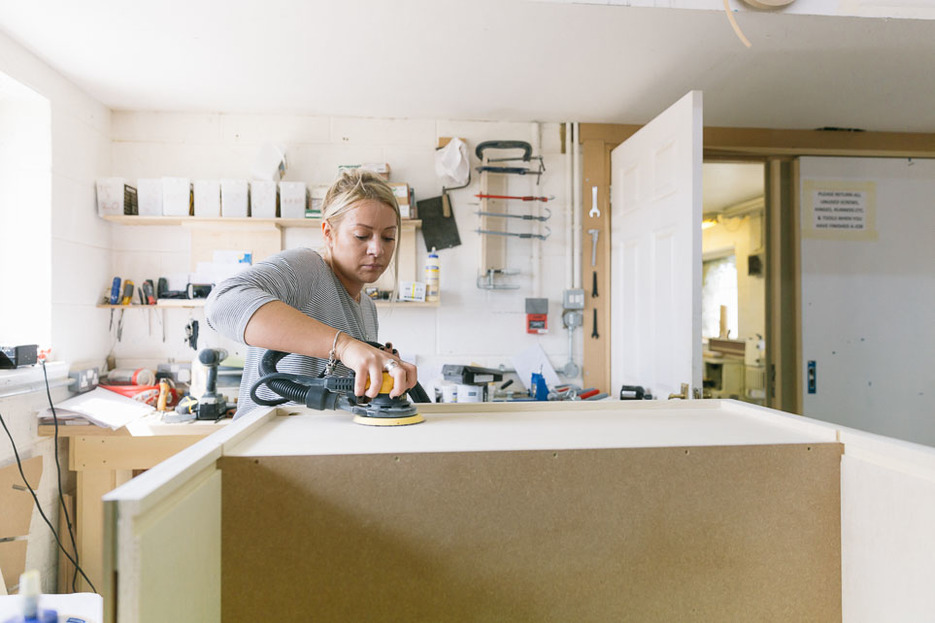 We've also got Harry who's the Workshop Manager overseeing production. Alongside him we've got Stuart, Thompson, Pharrell and Jess, a female cabinet maker with a great eye for detail. She really adds another dimension to how we manufacture. Last but not least, there's my brother Steve, who takes care of all the installations. That's the team!
Opendesk: Sounds like a great bunch. How did you first hear about Opendesk?
Dan: Either through a CNC rep or Pinterest: we use so much plywood in kitchens so I'm always looking for products to make alongside kitchen cabinets with similar materials! I really liked the look of the Opendesk furniture and even more so the business concept and mentality.
Evie Willow is at the stage now where if we wanted to sell more kitchens I'd have to bring in a manager to deal with sales, another designer, and another fitter. Rather than doing that, Opendesk gives us more opportunity to work with off-the-shelf products within our current capacity. With Opendesk, our CNC machine can do in two days what would normally take a week with all the usual drawing revisions and design meetings that go hand in hand with bespoke kitchens.
Opendesk:
Final questions: what's your favorite Opendesk design that you've made?
Dan:
I'd say the Fin Lockers. They're particularly impressive because there is no hardware in them - a rarity when you're used to working on kitchen cabinets! I love the simplicity of how the process flowed: the design came straight off the CNC, we put it together and it worked. That's it. Job done.
Designs featured in this article
ABOUT THE AUTHOR