Augmented reality meets distributed manufacturing
AR meets local, distributed furniture production with Opendesk, VRTX Labs and Apple iOS 12.
Digital fabrication technologies, now more widespread than ever, are increasingly designed to produce on-demand for individual needs - meaning products made for people, rather than warehouses or showrooms.
AR technology is maturing rapidly and, with iOS 12, will be more and more commonplace. It provides the missing link between digital design and digital fabrication - a digital showroom.
Opendesk furniture is made on-demand by independent fabricators, so there is no stock. With no stock, there's no need for warehouses and nothing to display in showrooms. With the release of Apple's new operating system for iPhone and iPad (iOS 12), we're making it easier to find the perfect size, material or design detail - without having to leave home.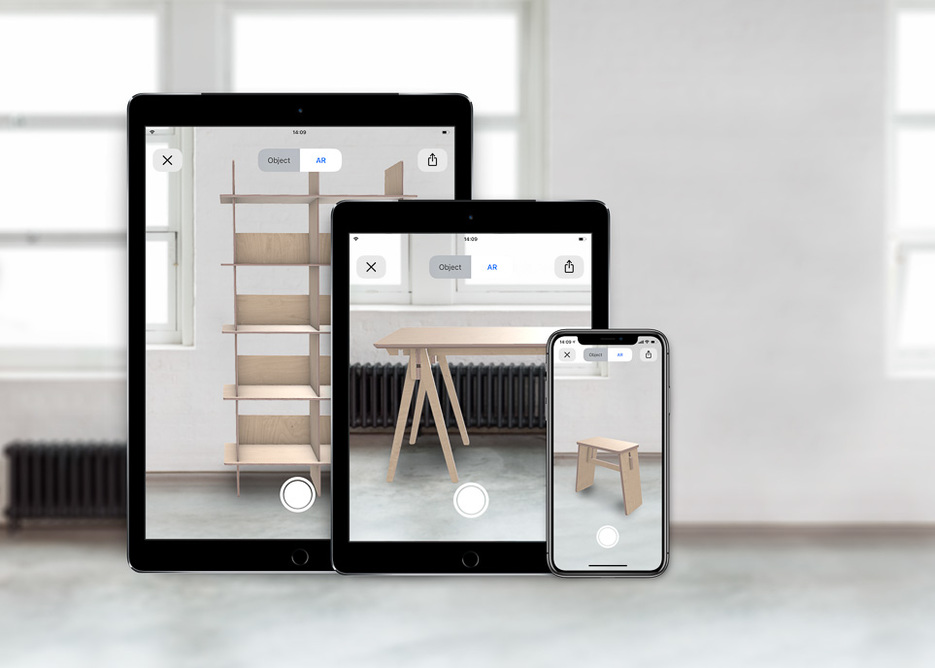 We've teamed up with Hanover based AR/VR innovators VRTX Labs to introduce our first augmented reality experience. Powered by Apple's ARkit 2, users can experience a virtual showroom in their own home or workplace before getting their furniture made locally.
VRTX Labs are specialists in interactive real-time visualisation, augmented reality and virtual reality. They're helping businesses big and small deliver new user experiences with the latest breakthrough technology. Our collaboration with VRTX Labs shortly before the release of iOS 12 has enabled us to be one of the first to make commercial use of Apple's and Pixar's new USDZ open file format.
Every piece of Opendesk furniture is made after the order has been placed, and typically takes 3 weeks for a freshly made piece of furniture to arrive on its new owners doorstep. We're keen to make sure everyone can experience an Opendesk without the need to visit a showroom - all the perks of a showroom experience without the limited reach of physical retail spaces.
We've selected three of our favourite designs and modelled them in fine detail. Realistic shadows and lighting make for the most immersive AR experience. Drop the Johann Stool next to your desk to see how it fits or size up the Linnea Bookshelf on that free wall space that's been nagging you for the past month. Need a new workstation? View the Bundle Desk in your home office and plan your layout!
Our AR experience runs natively in Safari on iOS 12, without the need for a third party application. Just visit one of our featured designs and hit any image with the AR icon in the top right corner, it's that simple!
Upon clicking a compatible design, the product will open as a 3D model in Quick Look, which has been enhanced by Apple with AR capabilities. Within Quick Look the model can be viewed in object mode or dropped into a real world environment by activating the AR mode.
We'll be trialing our new AR experience with VRTX Labs over the next few months and hope to make more designs AR compatible very soon. Keep an eye on our design listing page, blog and newsletter for notifications about new releases!
Opendesk furniture can be made (almost) anywhere via our expansive network of independent makers, now you can also (virtually) demo our furniture anywhere before getting it made. Try before you "request quotes" from local makers near you!
Supported devices: iPhone 6s and later, all iPad Pro models, iPad 5th generation and iPad 6th generation.
Designs featured in this article
ABOUT THE AUTHOR